Duck WISE Education Video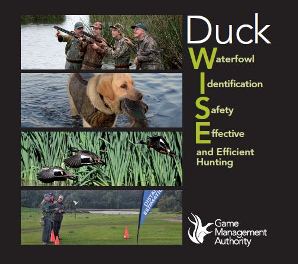 Duck WISE (Waterfowl Identification, Safety, Effective and Efficient Hunting) is a new education video for duck hunters. The video will help all duck hunters to accurately identify game and non-game species and will reduce the risk of the wrong birds being taken in the field. In addition, Duck WISE promotes responsible and lawful hunter behaviour and provides important information on effective and efficient hunting practices and firearm safety.
Duck WISE contains three major sections covering the following topics:
Waterfowl Identification
Firearms Safety
Effective and efficient hunting (introduction to the Shotgunning Education Program).
The waterfowl identification section provides detailed information on how to identify game and non-game waterbirds. This should be the minimum study material for anyone considering sitting the Waterfowl Identification Test which you must pass in order to obtain a game licence to hunt ducks. This sections is also a very useful revision chapter for hunters who already have their duck Game Licence and would like to refresh their knowledge prior to duck season.
The firearms safety section covers the ten basic firearms safety rules as detailed in the Firearms Safety Code, specifically tailored to duck hunting.
The final section of the video introduces duck hunters to effective and efficient hunting practices as covered under the Shotgunning Education Program.
Game laws and the information provided in this video exist to ensure hunting remains safe, sustainable and humane. At all times hunt responsibly and show respect for wildlife, the environment, other people and your fellow hunters.
The skills you learn from watching Duck WISE will add to your enjoyment of duck hunting and put you on the path to becoming a better hunter.
Video availability
You can view the Duck WISE video for free below or on our YouTube channel where you can watch the whole video or specific chapters in a playlist.
Page last updated: 02 Jun 2021