Hunting Maps
The Victorian hunting maps show where hunting game and pest species is permitted on public land in Victoria.
Some areas open to hunting can be easily identified due to distinct and easily recognisable boundaries (e.g. roads) while others can be difficult to identify and are only defined by physical features or lines on a map.
There are three options you can choose from to check where hunting is permitted on public land in Victoria.
+ Expand all
- Collapse all
New electronic hunting maps have now been added as a layer to the 'More To Explore' mobile phone app.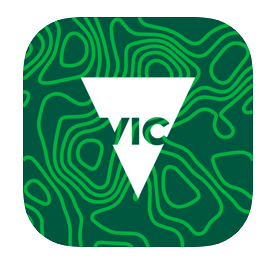 The electronic mapping system shows all public land available to hunting and the species that can be hunted in specific areas, including game species and pests.
The maps can also be downloaded for use offline, when out of mobile range.
The app also provides comprehensive information on State Forest camping sites and other activities, including bushwalking and mountain bike trails as well as 4WD tracks and seasonal road closures.
More To Explore is available for iPhones from the App Store and for Androids in the Google Play store.
Further details about the More To Explore app can be found on the DELWP website.
Find areas to hunt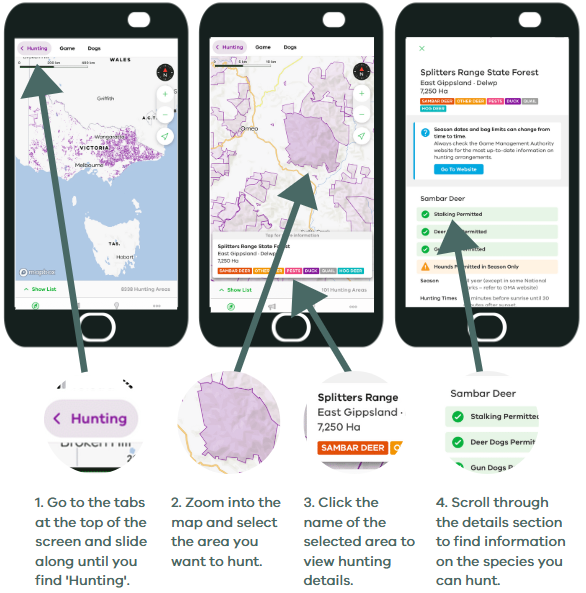 Using maps offline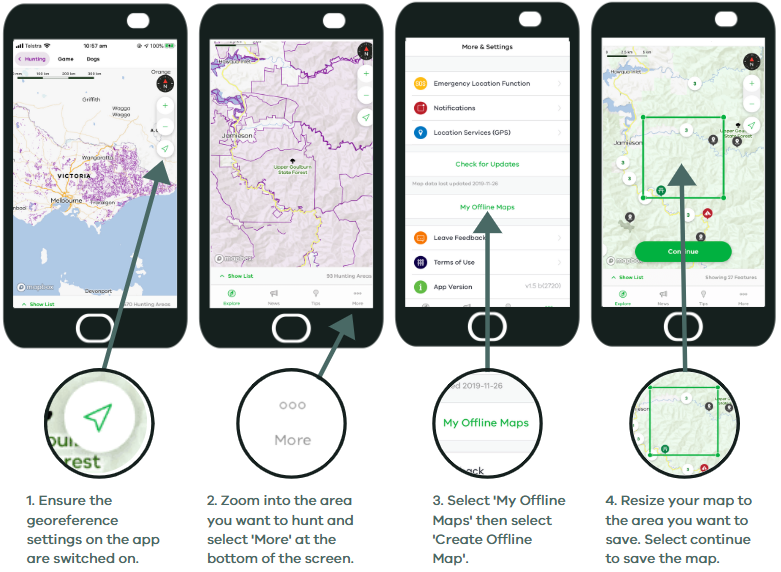 More to Explore is an online interactive mapping system, which hosts a number of different mapping layers for public land. It contains new game and pest animal hunting layers for public land in Victoria. These extensive maps are recommended for those with a strong internet connection.
For more information and to download the app, click here.
Please click on the below links to check where you can hunt particular species in Victoria.
The hunting web-based maps provide interactive and easy-to-access information about where hunting on public land is permitted in Victoria. These simplified maps are recommended for those in areas with a weaker internet connection.
More information on how to use the web-based maps can be found here.
A helpful list of Victorian public land hunting maps FAQs can be found here.
Please click on the below links to check where you can hunt particular species in Victoria.
Before you go for a hunt we recommend that you:
* Identify the general area that you wish to hunt
* Study the map of the area you wish to hunt and narrow it down to areas likely to have game
* If you intend to use a firearm to hunt, consider the Firearms Safety Code and remember that even though an area may be open to hunting, the use of firearms may be prohibited under the Firearms Act 1996 for safety reasons.
Above all, act responsibly and ensure that your actions will not put the safety of yourself or others at risk. Avoid hunting close to boundaries. Never carry a loaded firearm or on or over any area of public or private land where hunting is not permitted. Never hunt on private property without permission.
User feedback
DELWP endeavours to ensure that the information provided through the hunting layers is accurate, however the data is derived from a range of sources and may not be free from errors.
Please use the following link for feedback: https://www2.delwp.vic.gov.au/our-department/contact-us
Disclaimer
Hunters are personally responsible for acting in accordance with the Firearms Act 1996 (including informing themselves about any prohibited locations within the areas shown on this map) and other relevant laws; obtaining the required hunting licence; and for hunting only within season. More information can be obtained from the Game Management Authority's web site.
The More to Explore app and web-based maps are developed and owned by the Department of Environment, Land, Water and Planning (DELWP).
The content of this website is provided for information purposes only. The State of Victoria through the DELWP makes no warranty, either express or implied, concerning the suitability, reliability, availability, timeliness or accuracy of the content of this website for any purpose.
Information is provided on the basis that all persons accessing the site are solely responsible for assessing the relevance and accuracy of its content. You must view this website in full screen format. No liability is accepted for any information or services which may appear in any other format.
DELWP accepts no responsibility or liability for the condition or content of any information or services which may appear on any linked websites.
To provide feedback about the More to Explore app or the web-based and online maps, please contact DELWP.